Memorial days on Bradlo
---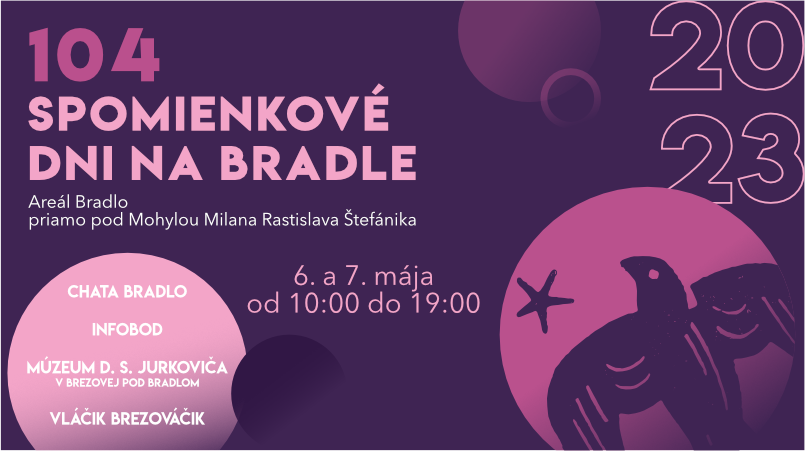 104 years have passed since the tragic death of General Milan Rastislav Štefánik. We commemorate our greatest Slovak at this time every year, which is why we have prepared Memorial Days on Bradlo together with our partners.
Come and visit Bradlo area on May 6 and 7 from 10:00 a.m. to 7:00 p.m.
WHAT CAN YOU FIND ON BRADLO THIS MEMORIAL WEEKEND?
REFRESH YOURSELF UP AT CHATA BRADLO
To help us keep your belly full, we brought in skilled people from creative street food bistro Coolňa from Senica. They make fantastic food and focus on freshness and locality. They enjoy preparing well-known dishes of world and Slovak cuisine and using local ingredients to transform this cuisine into street food form. You can find different types of sandwiches, burgers, hotdogs, loaded Belgian fries and fresh pastries here. They cooperate with various local brands – a butcher, a baker, a confectioner, but also producers of lemonade or beer. In addition to the bistro, they also have a food truck – a mobile kitchen – with which they travel around various gastronomic events and caterings in Slovakia and the Czech Republic. And this weekend they will come to Chata Bradlo with their food truck for the Memorial days and fill your bellies with the best burgers.
You can enjoy our excellent homemade cakes right here at Chata Bradlo, we will supply you with drinks, coffee or craft local beer. We will also open outdoor taps, one in front of the cottage, the other can be found near the Infobod.
In cooperation with the company Origos, Slovenský cykloklub will prepare a riding skill competition for your kids, and we will provide fresh information from the world of cycling in our stand.
AT THE INFOPOINT YOU WILL BE TRANSPORTED BACK TO THE PAST
Under the cairn in the Infobod you will experience the connection of the modern with the historical. In the new premises of Infobod, you can watch a very interesting audiovisual presentation of building the Cairn of Milan Rastislav Štefánik.
You can stop by, sit down, listen and be inspired by the life of Milan Rastislav Štefánik in the Reading corner or take a photo as a general, magician or cavalier in the Photo Corner.
The mobile cafe Café Milánek will offer you fragrant and tasty Kopanice coffee.
FIND OUT WHO CREATED THE CAIRN IN THE MUSEUM OF D. S. JURKOVIČ
The museum will be open from 10:00 a.m. to 6:00 p.m.
In the Museum of Dušan Samuel Jurkovič, you will meet the creator of Cairn of Milan Rastislav Štefánik, and learn more about the past of the city Brezová pod Bradlom.
Among other things, you will also find here a segment of the canvas from the Caproni plane, in which General Milan Rastislav Štefánik found his death.
VLÁČIK BREZOVÁČIK – SMALL TOURIST TRAIN WILL TAKE YOU TO BRADLO AND BACK
Vláčik Brezováčik will take you up to Bradlo at 9:30 a.m. and then it will ride uphill every hour. The last ride up will be at 6:35 p.m.
The train will leave Bradlo for the first time at 10:00 a.m. and then it will ride down to city every hour. The last time it takes you down to the city is at 7:00 p.m.
Visit Bradlo area to remember the great man Milan, go and visit the Cairn, look into history and enjoy local delicacies.
Looking forward to see you!